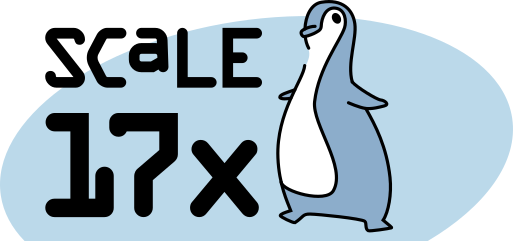 SCaLE accepted my Device and Personal Privacy Technology Roundup talk for the Security track on Sunday, March 10th at 13:30 in room 106.
I was in room 101 the last few years, so it'll be nice to stretch my horizons and try a new place :). Ha, I've actually been in room 101 every year since we moved to Pasadena ( checked old schedules ).
The security track looks nice this year.
Sunday, Eric Brown will be covering Your Suite of Open Source Security Linters at 11:30 before my talk.
Mandy Walls will be covering Adding Security to your Workflow with InSpec at 13:00 after my talk.
Looks like both of them are new speakers for SCaLE. That's one of the nice things about SCaLE, there's opportunity for new speakers every year.
If our talks don't look interesting, the are 11 other tracks on Sunday to choose from, plus the hallway track. The expo hall will be open for part of the day that day, but usually closes mid-afternoon as everyone needs time to break down and pack everything out.
The security track also runs Saturday in room 106. I'm personally looking forward to Michal Hrusecky's Making secure routers with opensource firmware talk at the end of the day. I want to learn more about Turris Omnia, an open hardware router designed to run OpenWRT.
I read about CZ.NIC's Turris Omnia project in a copy of LinuxPro Magazine on a flight to speak at LibrePlanet last year. I had picked up the magazine at SCaLE just before LibrePlanet. Had some good conversations about the project at LibrePlanet.
I wanted to visit CZ.NIC while in Prague over the Summer, but was too amazed with the city to think about a geekspedition while there. I did get to speak at Tübix before heading to Prague, so it wasn't a completely geek free trip.
Speaking of speaking before, I will also be speaking as part of UbuCon again this year. My talk is Software Management for Debian and Ubuntu on Thursday at 11:30.
Looking forward to a great SCaLE, some great talks and lots of fantastic people.
QR Code To My SCaLE Speaker Page